Vivid childhood memory

Still remember the happy summer in your childhood? No air conditioner, no computer, but long vacation and cool pool together almost added up to a wonderful summertime. At that time a cluster of kebab and a bottle of Zhenzhen was a luxurious enjoyment. Though Zhenzhen was specially offered during the New Year*s Day, it is still a pleasure to think now.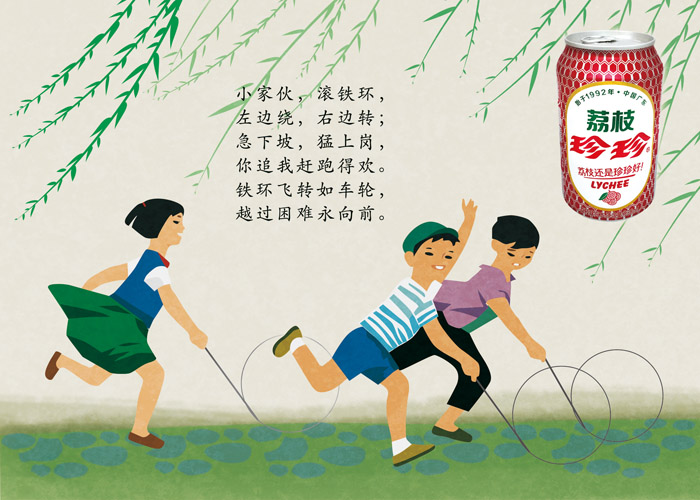 Feelings of over two decades

For over two decades since 1992, while bringing mirth and care to children and families, Zhenzhen reminds of the innocent years and simple ourselves, especially the generation after 80s and 90s. Therefore, it bears the kinship, childhood, nostalgia, dream and motivation of the generation. No matter how time changes over the past two decades, Zhenzhen remains the taste in memory and its commitment to customers for quality.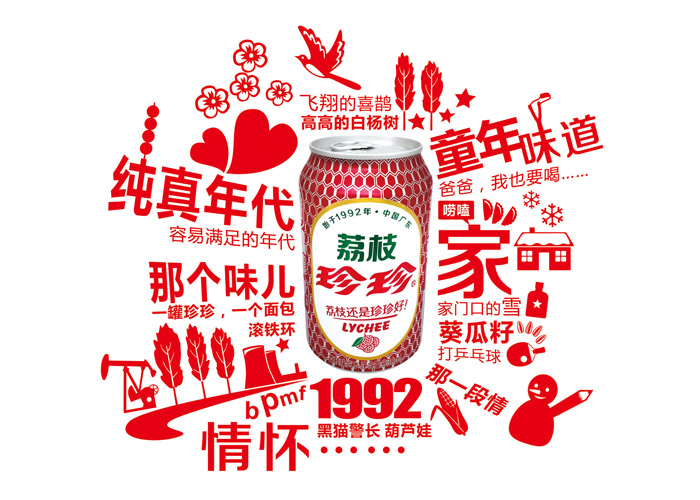 Awards
1993, Excellent Hygiene by Liaoning Health Department
1994, Zhenzhen Lychee was appointed as the ※Official Product in the Eighth Winter Olympic Games§
2000, the member of ※China Beverage Industry Association§
2003, ※Integrity Enterprise, Trustworthy Food§ by China Food Industry Association
2006, ※Contributor in the Sixth Asian Games§
2008, ※Top Ten Brands of Juice Industry in China§
2009, ※Famous and Excellent Product in Guangdong Province§
2012, Chinese Famous Brand
Of all the lychee beverages, Zhenzhen is the best
Lychee captures the heart of many people for its freshness and sweetness. Over the last two decades, we are committed to develop premium quality lychee beverages so that the taste of happiness can be shared around. Being the best seller for years, Zhenzhen has developed into the leader in lychee beverages, acquiring good reputation from customers and consumers.
New packing
The unique packing of Zhenzhen lychee is an unforgettable and amiable symbol to customers. To make the brand more remarkable and more conform to the trend, we made some changes by keeping the package accordance with product categories.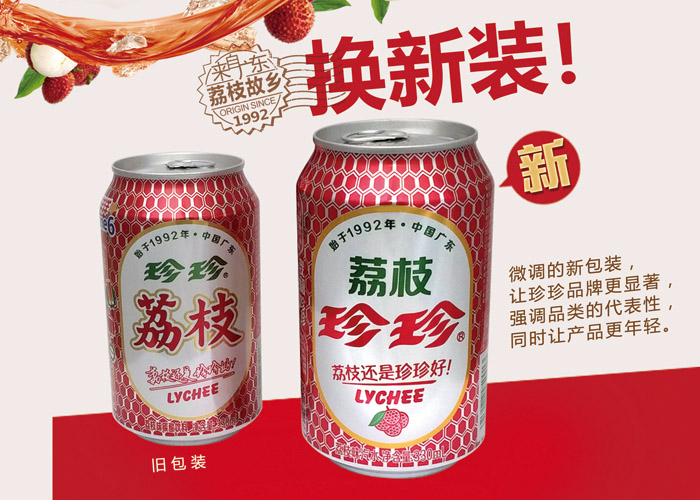 My story with Zhenzhen (statement from customers)


The eternal memory from Zhenzhen is beyond words. When I was young, I wanted to grow up and make my own money for delicious food. However, I find it hard to buy the food I loved now. So lucky Zhenzhen is still here. 每Shenyang City, Liaoning Province

Last night I came upon the advertisement of ※Of all the lychee beverages, Zhenzhen is the best.§ It reminds me the Zhenzhen I enjoyed in every meal. Today, my mother surprise me with a bottle of Zhenzhen--Jilin City, Jilin Province


My husband buys a canned Zhenzhen today. The first time I drank is still vivid in my mind. How time flies! We went steady in 1992, the same year for the establishment of Zhenzhen. Thank you for the company in the last 23 years. --Jilin City, Jilin Province

Zhenzhen lychee was only one point five yuan in my childhood. Every time the bottle is opened, its flavor is so attractive that I can*t help but drool. Zhenzhen at that time is just like the symbol of status and wealth. A small bottle of beverage bears my childhood memory--Shanghai


I aspired so much for Zhenzhen lychee that my voice was cleared after drinking it. So fantastic. 每Songyuan City, Jilin Province

My father always prepared a bottle of Zhenzhen lychee for me on our bike to the bathhouse. I would be required to recite Tang poetry and children*s song. How warm it is〞Dalian City, Liaoning Province


Imagine a drama. The boy and the girl sheltered from the sudden rain in an old shop. The boy remembered the Zhenzhen he used to buy in this shop, so he bought one for the girl, who kept the taste of love in mind. Henceforth, the girl always prepared a bottle of Zhenzhen for the boy. Actually, it is not a drama, it is the story of my boyfriend and me. 每Chongqing City


My grandma rode a tricycle to sell vegetables she grew and bought me a bottle of Zhenzhen with two point five yuan, so expensive that I was always reluctant to drink. We insist such a long time that the gas was released. But now we can drink as we want. I often visit my grandma and buy her presents now. Sometimes a box of Zhenzhen can bring us back to the tough but wonderful childhood.


I drank Zhenzhen at every holiday and festival in my childhood, later I wholesale from the Fuxing Road. It*s the only thing I persist. I am so loyal to beverages. 每Changchun City, Jilin Province


Born in rural area, it was not until I entered into the primary school that I first drank Zhenzhen, the competitive brand of which at that time was Jianlibao, if my memory serves me well. Zhenzhen was a luxury specially offered on New Year. Clearly, Zhenzhen is absolutely indispensable to my memory. 每Harbin City, Heilongjiang Province


I still remember it is my father who bought me the first bottle of Zhenzhen. The penetrating sweetness and freshness remain fresh in my memory. Poor as we were, my father bought me one whenever possible. So sweet the packing makes no change.



Allusion about lychee



In the Tianbao Age of Tang dynasty, Emperor Xuanzong conferred Yang Yuhuan the title of highest-ranking imperial concubine. Since then they lived a romantic lifeㄛ studying song and dance and composing rhythms together. During this, rare treasures and fruits were offered up to Yang Guifei, of which lychees from the southern China are loved in particular. The tender lychees with sweetness just like the plump body and white skin of Yang Guifei.

Emperor Xuanzong ordered Gao Lishi to transport lichee from the southern China to the capital city of Tang Dynasty, since there was no easy traffic but riding, the lychee went sour. To comfort the moody Yang Guifei, the emperor ordered Gao Lishi to return the southern China, who put lychees in bamboo pipes sealed by beeswax and carried lichee on horseback and whipped it gallopingly to the travelling palace. The lychees were like freshly picked. Yang Guifei was lighted up with pleasure when she tasted the lychee.

Gone are the Emperor Xuanzong and Yang Guifei over time and with age, but delicious lychees are still there in the southern China. To make all Chinese keep the natural taste of lychees from southern China and renew the legend of Yang Guifei, Zhenzhen devotes itself to develop premium quality lychee beverages, so that the joy of drinking Zhenzhen can be shared around-Of all the lychee beverages, Zhenzhen is the best.